For over 40 years, we've worked hard to take good care of our clients, and design and build construction projects that last, all while keeping environment stewardship a high priority.
Our Office
2506 Little Powder River Road
Gillette, WY 82716
Call:
(307) 682-4346
We are here to parnter with you. Give us a call, today.
Always dedicated to our work and our clients, our team is here to take care of you.  A diverse company, we've got the experience and expertise to make sure your end product is everything you're looking for and more.
For over forty years we have been dedicated to providing quality work at great value. Our team takes great pride in the work we do and more importantly how we do it. We approach every task with environmental stewardship in mind.
Preservation for the Future
In an effort to preserve the earth for future generations we are very diligent in our efforts to minimize disturbance, prevent erosion and water pollution, and manage airborne emissions at every opportunity.
If you have environmentally sensitive projects that you need help with then our team would like to partner with yours. We invest heavily in modern equipment with improved fuel efficiency as well as decreased emissions and are committed to sustainable growth.
Giving Back
We believe in maintaining a community mindset and work to utilize our succes to give back. Owner, Tyler Miller, was recently elected to the Enery Capital Economic Development Board, dedicated to bringing diversified businesses & opportunities to our community. He also, is and has been involved in Rotary, the YES House Foundation, Public Works Advisory Board along with a number of others. We at Earth Work Solutions will always work to support our community.
Services
Founded in 1970, our beginnings as a service company were exclusive to the oilfield industry. Since being awarded our first mine contract in 1980, we have successfully completed a multitude of mine contracts, state highway work, municipality projects, county work, private site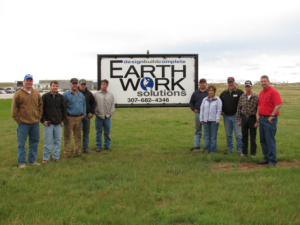 work, major railroad projects, oilfield service contracts, coal-bed methane development, safety-of-dams reservoirs, abandoned mine reclamation, and many other interesting projects. From design to build, we have accumulated vast amounts of experience and knowledge that has been a very valuable asset in the services we provide.
Adding Value for You
During the past two decades we have included several value added services for our clients such as: surveying, computer aided drafting along with professional services such as engineering, value added design, and construction management. 
We strive to work together and provide each client with a finished product that we are proud to proclaim as our very own. We will endorse each project with a sign of craftsmanship that reflects years of experience and technical expertise. We also maintain a safe and efficient operation to maximize value to our clients.
Surface Treatment Applications
Earth Work Solutions mines, processes and supplies the highest quality surface treatment aggregate produced in the USA. The cleanliness, hardness, durability and ability to resist wear separate our aggregate from others on the market.
Always Innovating
We are proud to offer our design to completion product, Surface-Safe™, a long lasting, turn key traction solution that allows our clients to brand any surface that needs slip-fall protection.
Helping Companies Meet Their Government Goals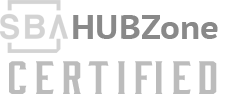 In 2018, we became SBA HUBZone certified, allowing us to help companies fulfill their HUBZone requirements. Part of a very small group of certified HUBZone construction companies in the region, we are excited to offer this value to our potential clients.