High Friction Surface Treatment Applications
Highest Quality Aggregate, for Proactive Preventative Maintenance & Long Term Viability.
Earth Work Solutions mines, processes and supplies the highest quality high friction surface treatment aggregate produced in the USA. The cleanliness, hardness, durability and ability to resist wear separate our aggregate from others in the market.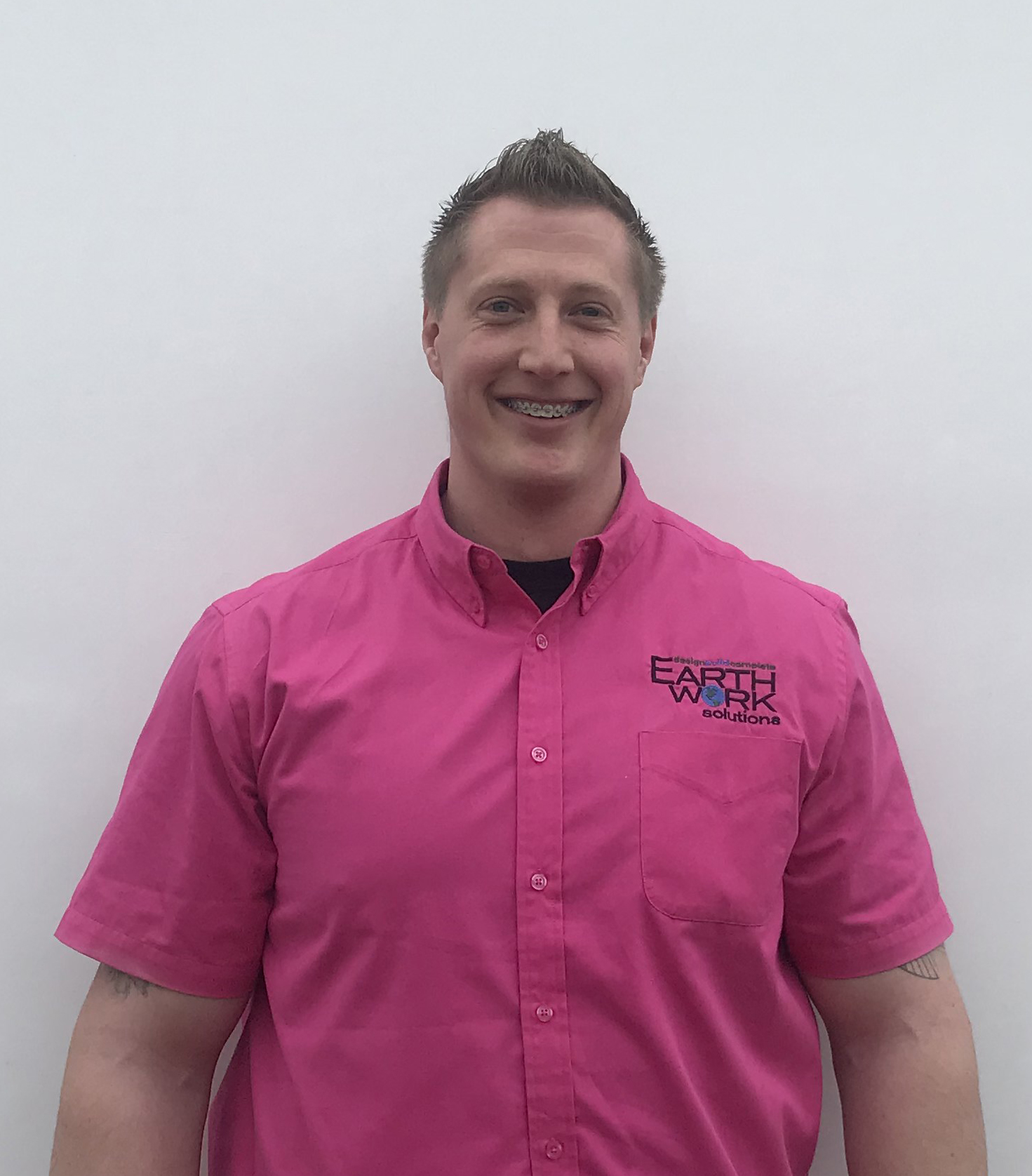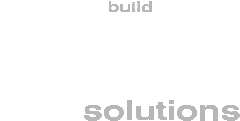 Ready to Work with You. Let's Talk.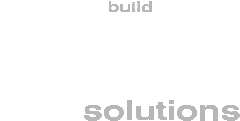 Ready to Work with You. Let's Talk.
Contact Shay Lundvall Today
Phone: 307.682.4346
Invest in an Aesthetic, Functional Approach that Lasts
Clean, Hard, Durable, Wear Resistant. Our high friction surface treatment is utilized as a protective coating with a superior traction value-added characteristic.
Let Our Team & Our Applications Work for You
Put Your Mind at Ease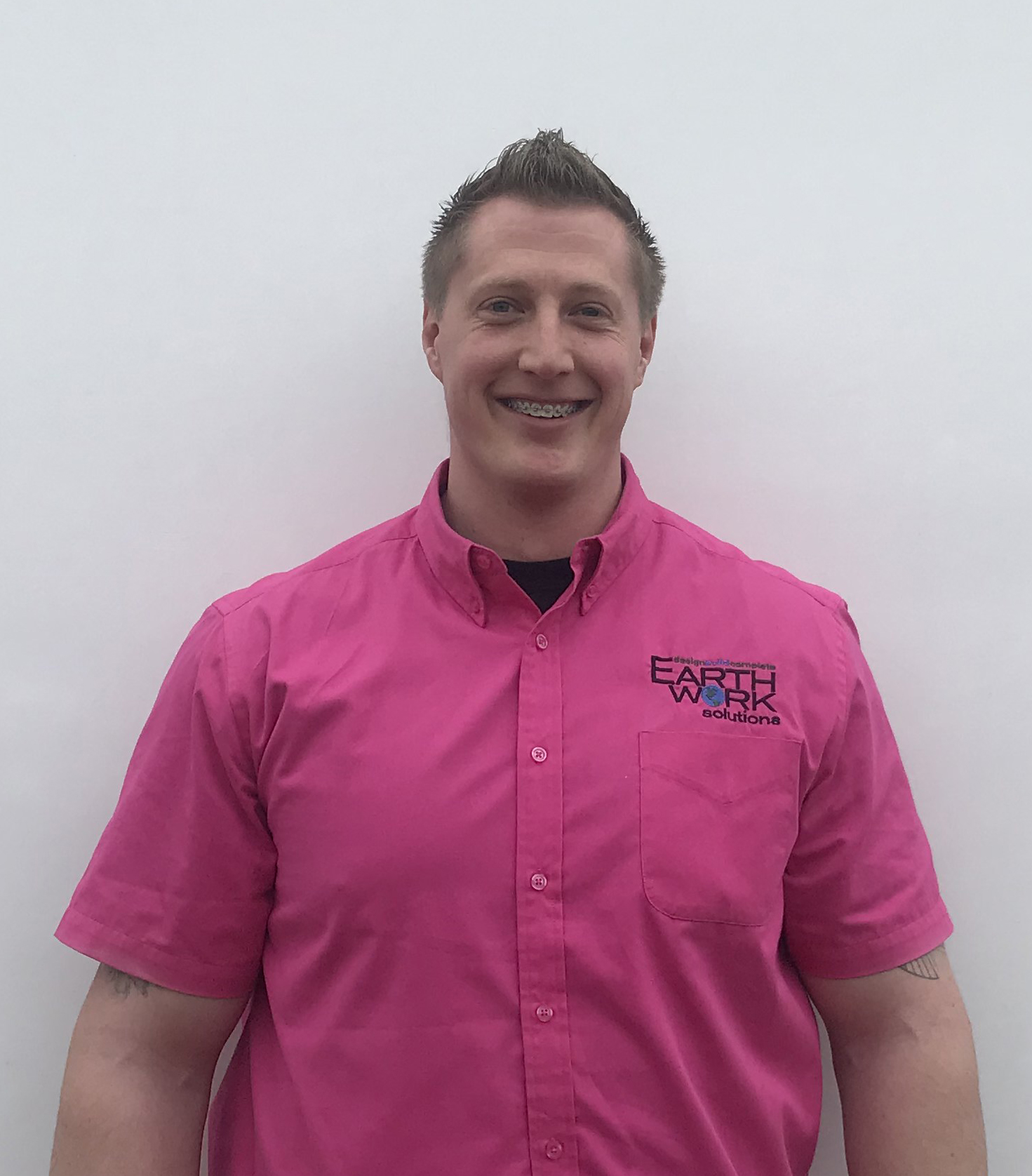 Taking Time for that 1 on 1
We at Earth Work Solutions work hard to make sure you are taken care of. We will sit down with you, take a look at your situation and your budget and help determine what will best serve you. 
Premium Aggregate Makes All the Difference
Commonly used in a variety of high volume traffic areas, from parking structures, loading docks, landing areas, and stairs to bridges, intersections, sharp corners and any travelway that can improve safety with enhanced friction, our premium high friction surface treatment aggregate lasts, preserves and is easy to work with. Save Money, Save Time.
1 on 1 Consultation
Aggregate Sales
Turnkey Solution Options
Cost Efficient Trucking
Invest In Quality, See the Return
Mined in NE Wyoming, our high friction surface treatment aggregate is a Natural Calcined Bauxite which is similar, but structurally and chemically superior, to granite. This rock is extremely hard and durable and has a very rough surface. We've put it through extensive testing, ensuring you get the highest quality product possible. Click here to see the results.
Nonporous
Holds Long Term Value/Wear Resisitant
Preserves Existing Surface
Consistent Shape & Color
Proven to Work with Multiple Types of Epoxy
NO Free Silica or Beryllium
Easy To Maintain
Varying Gradations to Meet Your Needs
Can be Dyed & Patterned
Easy Broadcast Installation
Clean & 100% Dry
Maintains Structural Integrity through Weather, Maintenance, Snow Removal, & Temperature Extremes
Tested and Proven in a Variety of  Areas
Adaptable to Different Climates
Aggregate Sales: Our mission is to ensure that your material makes it to your job on time and when you need it, to keep your projects on track. We pride ourselves on good communication, good transportation and fair pricing.
Trucking: We hold a Broker's license enabling us to get your product on the road fast, while passing our savings on to you. Got your own trucks? We'll make sure get you loaded and on the road, safely and effectlively.
Details
High Qualtiy
Does Not Polish as Fast as Others
Acts as a Natural De-icing Agent
Consistent Size, Shape & Color
Angular
Bridge Deck Polymer Overlay
Preserves Existing Bridge Surface
Enhaces Traction –  Alleviates Hydroplaning
DOT Approved in ALL 50 States
High Friction Surface Treatment
Enhances the Friction of Exising Surface
Call for list of DOT Approved States
Talk to our Aggregate Specialist. Call Shay at (307) 682-4346 Today.
On the runway or off, our high friction surface treatment aggregate is versatile enough to use in a number of applications. Using a team approach, we provide your contractor with accurate specs, detailing prep, aggregate, installation and epoxy, custom designed to your specific needs
Parking Structures
Runways
Landing Zones
Any Area That Can Be Improved by Enhanced Friction
Meets FAA Requirements
Acts as a Natural De-icing Agent
Consistent Size, Shape & Color
Wear Resistant
Free Consultation. Call (307) 682-4346 Today.
Invest in your customer experience, turf  health, maintenance and longevity with our high friction surface treatment.
USGA Approved
Consistent Size
Won't Interfere with Customer Play
Greens Up Turf Sooner – Acts as its own De-icing Agent
Aids in Creating a Great Subsurface Proile
Allows Nutrients to Reach Root Zone
Performs Well in Sand Traps
Spreads Well Coming Out of Spreader
Does Not Chew Up Maintenance Equipment
Find Out More. Contact Shay, Today.
Invest In Quality, See the Return
We've put our aggregate through extensive testing, ensuring you get the highest quality product possible. See the results below.
Chemical Properties, Toughness & Abrasion Resistance
The properties of this premium aggregate make it the hardest, cleanest, most durable, and best performing aggregate within the market area.
Chemical Properties
Alkali-Silica Reaction
Alkali-Aggregate reactions occur between the alkali contained in cement and elements in the aggregate. The most common reaction of this type is between alkali and silica. This reaction causes map or pattern cracking in PCC. Our aggregate has an Alkali-Silica Reactivity of less than 0.01 after a 28 day test. This makes our phonolite very well suited for highly stable concrete which can mitigate ASR problems without the use of fly ash or lithium.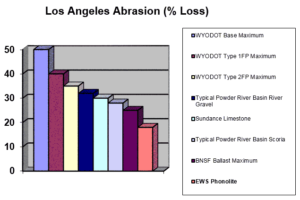 Toughness and Abrasion Resistance
Los Angeles Abrasion Test (ASTM C 535)
The Los Angeles Abrasion Test, or L.A. Wear, is designed to measure the ability of an aggregate to resist crushing, disintegration, or degradation over time. The results are expressed as a percentage of loss with a lower percentage representing a more durable and wear resistant material. Earth Work Solutions Bauxite has a Los Angeles Abrasion of 18%, making it an extremely durable and resilient aggregate affording less wear, longer life, and less dust.
Compressive Strength, Durability & Soundness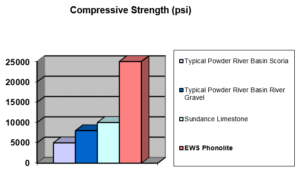 Compressive Strength
Earth Work Solutions Bauxite has a compressive strength of approximately 25,000 psi which is significantly higher than our nearest competitor.
Durability and Soundness
Soundness Test (ASTM C 88)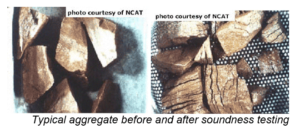 Aggregates must be resistant to disintegration or breakdown due to weathering (freeze/thaw or saturation/drying) or they may prematurely wear. A soundness test determines an aggregate's resistance to weathering and, therefore, is an excellent indicator of long-term durability. The results of a soundness test are expressed as a percentage of loss or percentage of material broken down by the process. A lower percentage indicates lower breakdown and more durable, longer lasting material. Our Bauxite exhibits a soundness loss of between 0.00% and 0.04%. This extremely low value means that our aggregate will outlast competitive aggregates such as limestone, scoria, and river gravel by at least 3 times.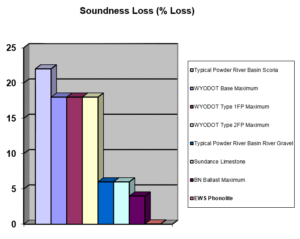 Particle Shape, Surface Texture & Cleanliness
Particle Shape and Surface Texture
Percent Fractured Face (ASTM D 5821)
Earth Work Solutions Bauxite contains 100% fractured surfaces having a rough texture. This allows for excellent binding characteristics and more consistent compaction.
Flat or Elongated Particles (ASTM D 4791)
Flat or elongated particles can cause problems in HMA because they tend to break or reorient due to compaction. Our aggregate contains less than 0.5% flat or elongated particles for more consistent and longer lasting concrete and asphalt.
Cleanliness and Deleterious Materials
Sand Equivalent Test (ASTM D 2419)
A sand equivalency test is used to determine the amount of fine dust or clay-like material contained in an aggregate. A higher sand equivalence represents less dust particulates contained in the sample. Our aggregate has a sand equivalency of over 85% which means it will provide excellent cohesion when used in HMA or PCC and will create less dust on gravel surfaced roads and while handling.
Specific Gravity, Absorption, Polishing & Traction
Specific Gravity
Specific Gravity Test (ASTM E 12)
The specific gravity of our aggregate is lower than that of our competitors and therefore will require less tonnage for the same amount of road or rail coverage or to produce a cubic yard of concrete.
Absorption
Our Bauxite has an absorption of 0.05% which translates into less AC for the same tons of mix with less water absorption resulting in a more stable and consistent mixture.
Polishing and Traction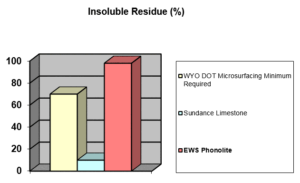 Insoluble Residue Test (ASTM D 3042)
An Insoluble Residue Test determines an aggregate's ability to resist polishing. Aggregates which polish excessively will become slippery over time resulting in loss of traction. The results of the insoluble residue test are expressed as a percentage where a higher percentage means that the material is more resistant to polishing. Earth Work Solutions Bauxite has 98% insoluble residue resulting in a long-lasting, slip-free surface.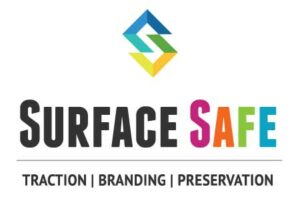 Traction & Branding Solutions
Non-Slip Traction, Branding, Preservation in a Single System. Save money, save downtime, save long term. Designed with aesthetics, longevity, and practicality in mind, our Surface Safe™ traction product utilizes our premium high friction surface treatment aggregate to offer a Turn Key solution for your high traffic areas.
Keeping your visitors & staff safe from slips and falls, while protecting your existing surface can make all the difference to your bottom line. From consultation to installation, we are here to work with you, 1 on 1, to determine your needs and customize a solution.
Learn More About Surface Safe 
See Our High Friction Surface Treatment Aggregate in Action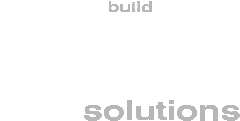 2506 Little Powder River Road
Gillette, WY 82716